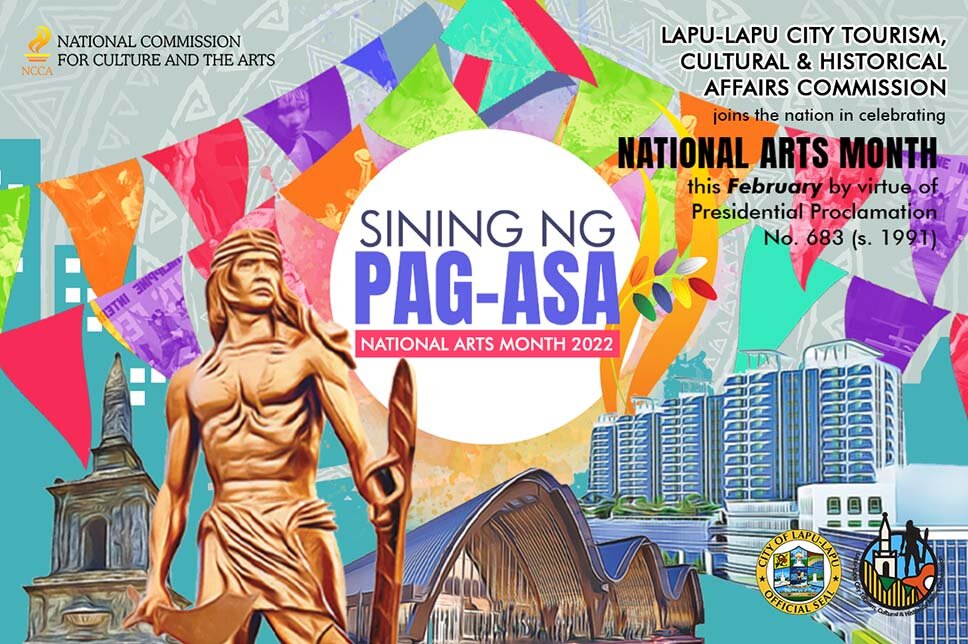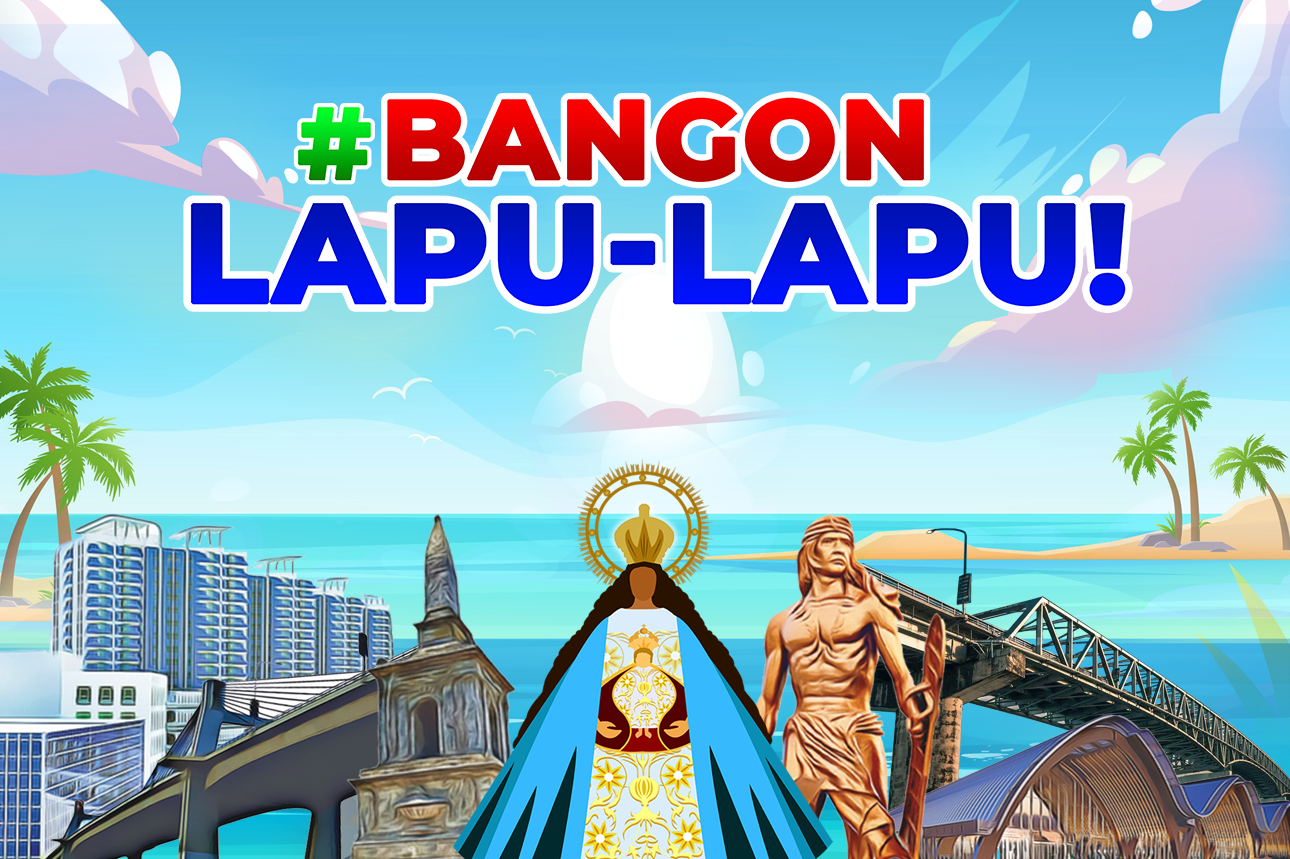 NEWS AND INFORMATION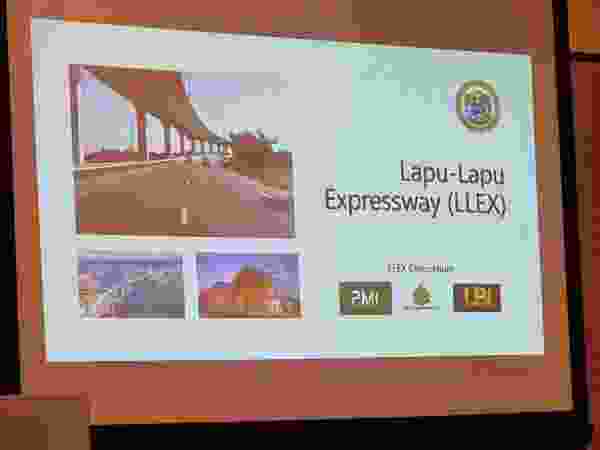 SKYWAY UPDATE
Gipahigayon namu karong adlawa ang meeting para sa maayung dagan nga progreso sa atong Skyway project nga gitambungan sa MVP GROUP HEADED BY FORMER DPWH SECRETARY BEBS SINGSON, ENGR. Allan Alfon and PMI Headed by Engr. Francis Chua. Nahisgutan sa maong mahinungdanong meeting ang finalization sa maong proyekto aron masugdan na kini sa labing daling panahon. Usbon ko, mao ni ang game-changer nga proyekto ubos sa akong administrasyon kay gawas nga walay magawas nga bisan sintemo ang syudad, maka-income pa kita gikan niini ug makasulbad pa gyud kini sa atong traffic problem. Makatabang sab kini nga mas mapadali ang atong pagbyahe paingon sa airport. Ato sab napanglantawan nga mas makadala pa kini og daghang mga investors sa atong syudad. Makahatag sab ni og dakong dungog kanato kay kita lang ang nag-inusarang syudad sa Visayas ug Mindanao nga makapahigayon sa susamang proyekto nga gawas sa Metro Manila. Maong congratulations kanatong tanan, mga Oponganon!
2 weeks ago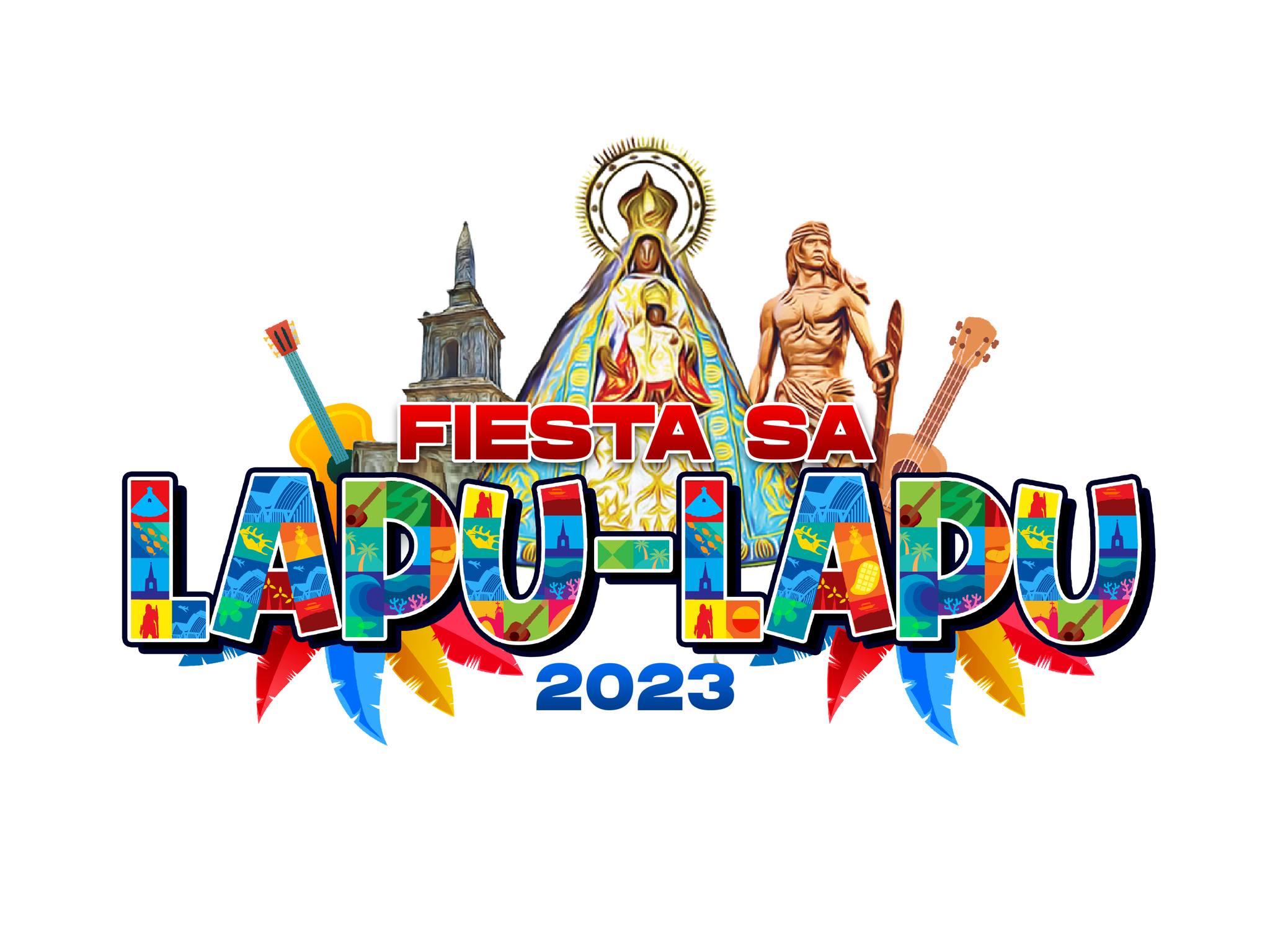 FIESTA SA LAPU-LAPU 2023!
• Garbo sa Lapu-Lapu 2023 • Binibining Lapu-Lapu 2023 • Dyosa ng Lapu-Lapu • Fiesta League 2023 • Fiesta Bisrock Concert • Fiesta Bingo Social (P150,000 Grand Prize) • Kapuso Fiesta Night • Prince / Princess and Mrs. Lapu-Lapu 2023 Mao ni ang nag-ung-ong nga mga kalingawan nga nagpaabot kanato sa umaabot nga kapisatahan sa atong Mahal nga Patron Birhen sa Regla. Kining tanan giandam sa atong Lapu-Lapu City Fiesta Committee. Atangi ang mga kompletong detalye sa atong facebook page.
2 months ago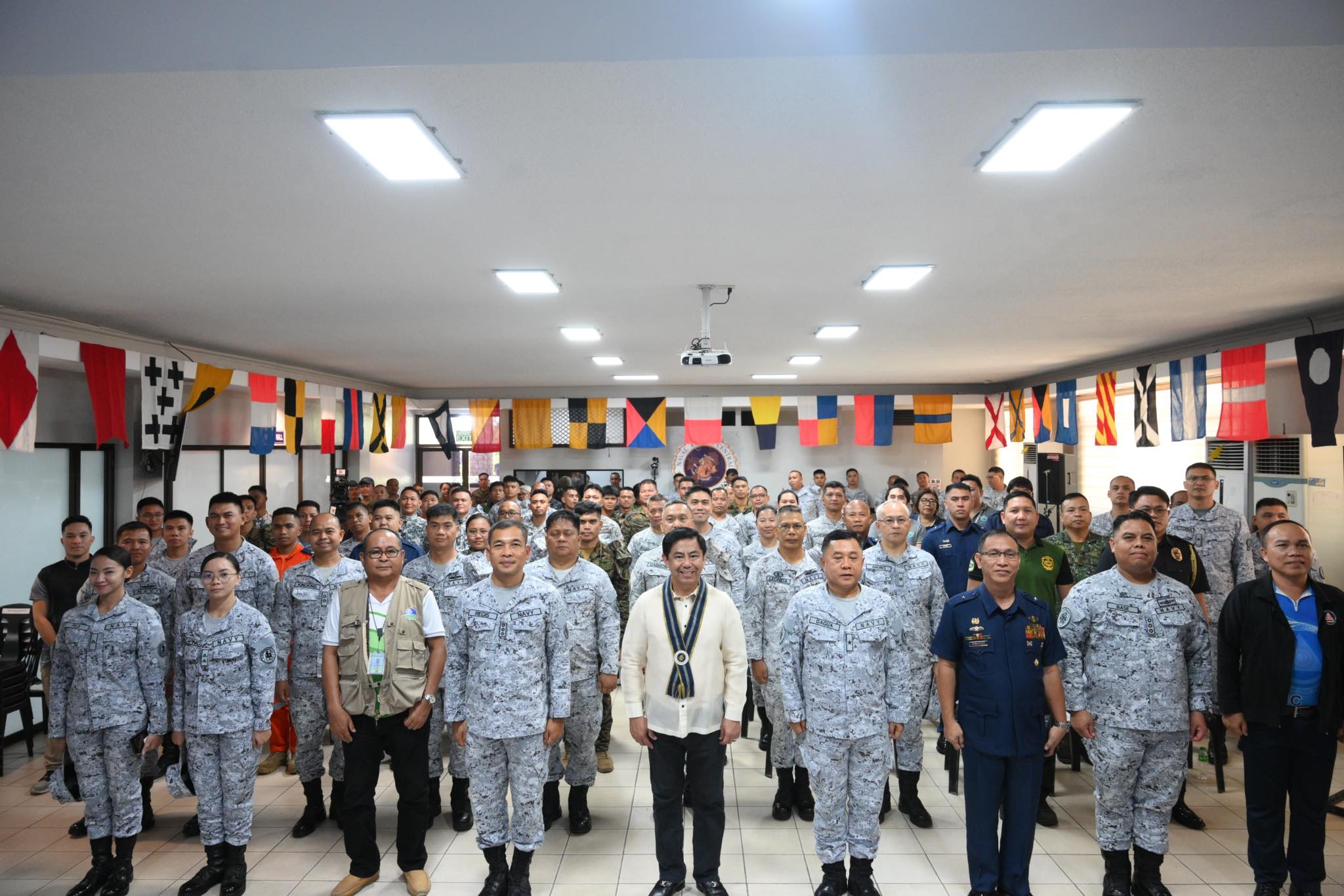 EXERCISE BANTAY KADAGATAN 2023
Daghang salamat Naval Forces Central sa inyung pag-imbita sa akong BEBIKO Congresswoman Ma. Cynthia "Cindi" King Chan sa opening ceremony sa inyung Exercise Bantay Kadagatan 2023 isip guest of honor ug speaker. Apan kay aduna may susama ka importanteng kalihukan nga giadto ang atong Kongresista, dako nakong kalipay nga nahimo akong kabahin niining mahinungdanon ug dakong kalihukan. Nagpasalamat gayud ako sa inyung kanunayng pag-abag sa atong administrasyon ug sa mga Oponganon. Wala gayud hunong ang inyung pagtabang gikan pa sa pandemiya, sa bagyong Odette, sa mga kalihukan sa syudad, madako o magamay man maong wala say hunong ang atong pagdungog sa inyung mga hangyo. Labi na sa atong Congresswoman nga migahin gayud og pundo para sa rehabilitate sa inyung base. Congratulations sa malampusong opening sa EXERCISE BANTAY KADAGATAN 2023!
5 months ago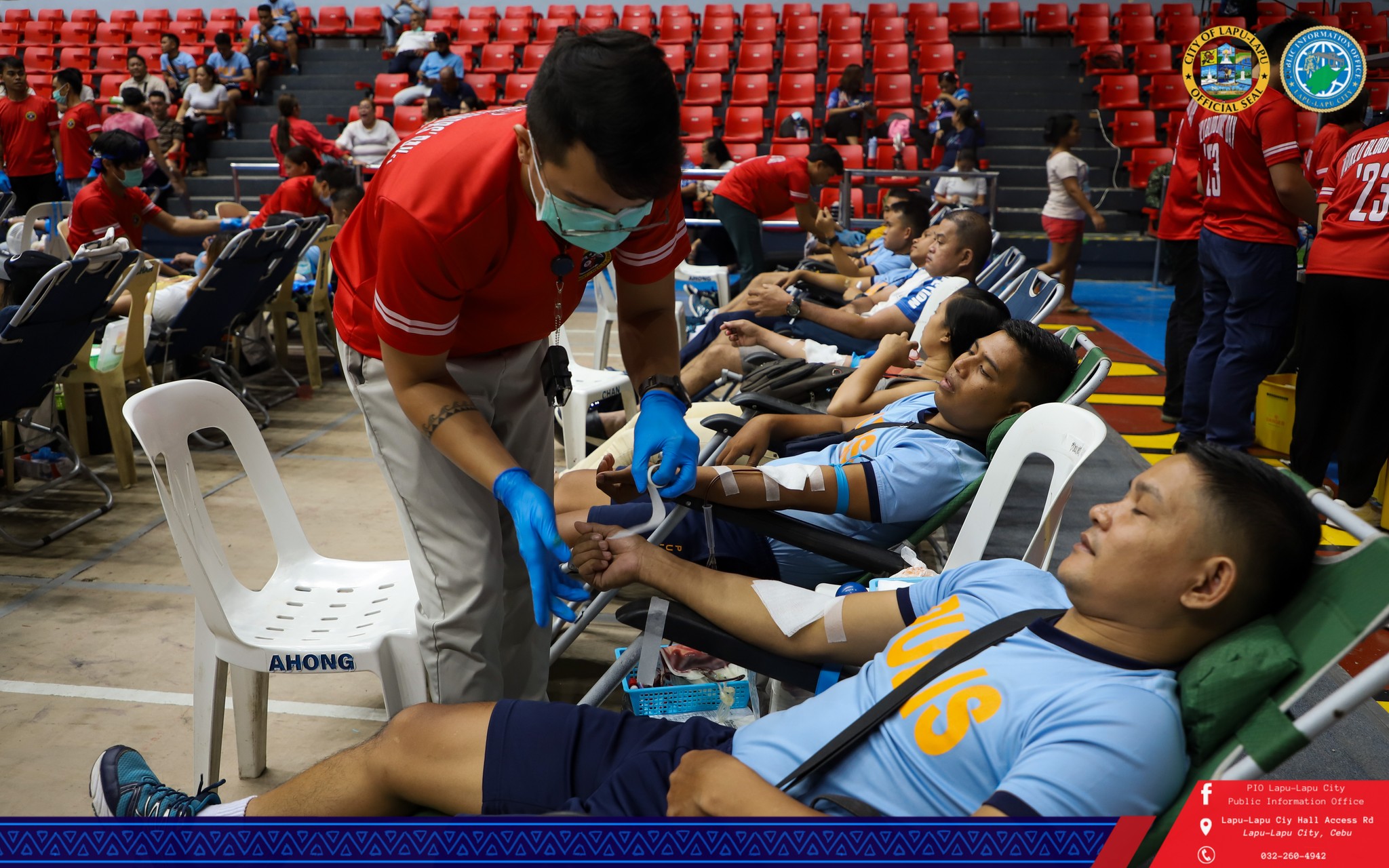 World Blood Donor Day 2023 event organized by the Lapu-Lapu City Government
LOOK | A total of 695 individuals participated in the World Blood Donor Day 2023 event organized by the Lapu-Lapu City Government, in partnership with the City Health Office, CSWD Office, and the Department of Health Central Visayas Center for Health Development. The event took place at the Hoops Dome in Barangay Gun-ob yesterday, under the theme "Give Blood, Give Plasma, Share Life, Share Often." The World Blood Donor Day 2023 event saw the active participation of various government agencies and stakeholders, all working together to support its objectives. Lapu-Lapu City Councilors also participated the event while City Mayor Junard "Ahong" Chan and Congresswoman Cindi King-Chan are abroad on an official business trip, promoting Lapu-Lapu City to our European counterparts. The official program commenced at 10:00 am, starting with the singing of the Philippine National Anthem, followed by the Lapu-Lapu City hymn. The program included the acknowledgment of guests and participants, and City Councilor Emilio Galaroza, the committee chair on health and drugs, delivered the opening remarks. Vice Mayor Celedonio Sitoy, the Acting City Mayor, delivered an inspirational message, while Dr. Sophia Mancao, Assistant Regional Director of DOH CV CHD, shared a special message. During the event, recognition was given to the top five Barangays with the highest number of successful blood donors in the World Blood Donor Day 2022. The top five Barangays Marigondon and Mactan had 42 successful donors, Barangay Looc had 46 successful donors, Barangay Gun-ob had 66 successful donors, Barangay Basak had 114 successful donors, and Barangay Ibo came in first place with 134 successful donors.
5 months ago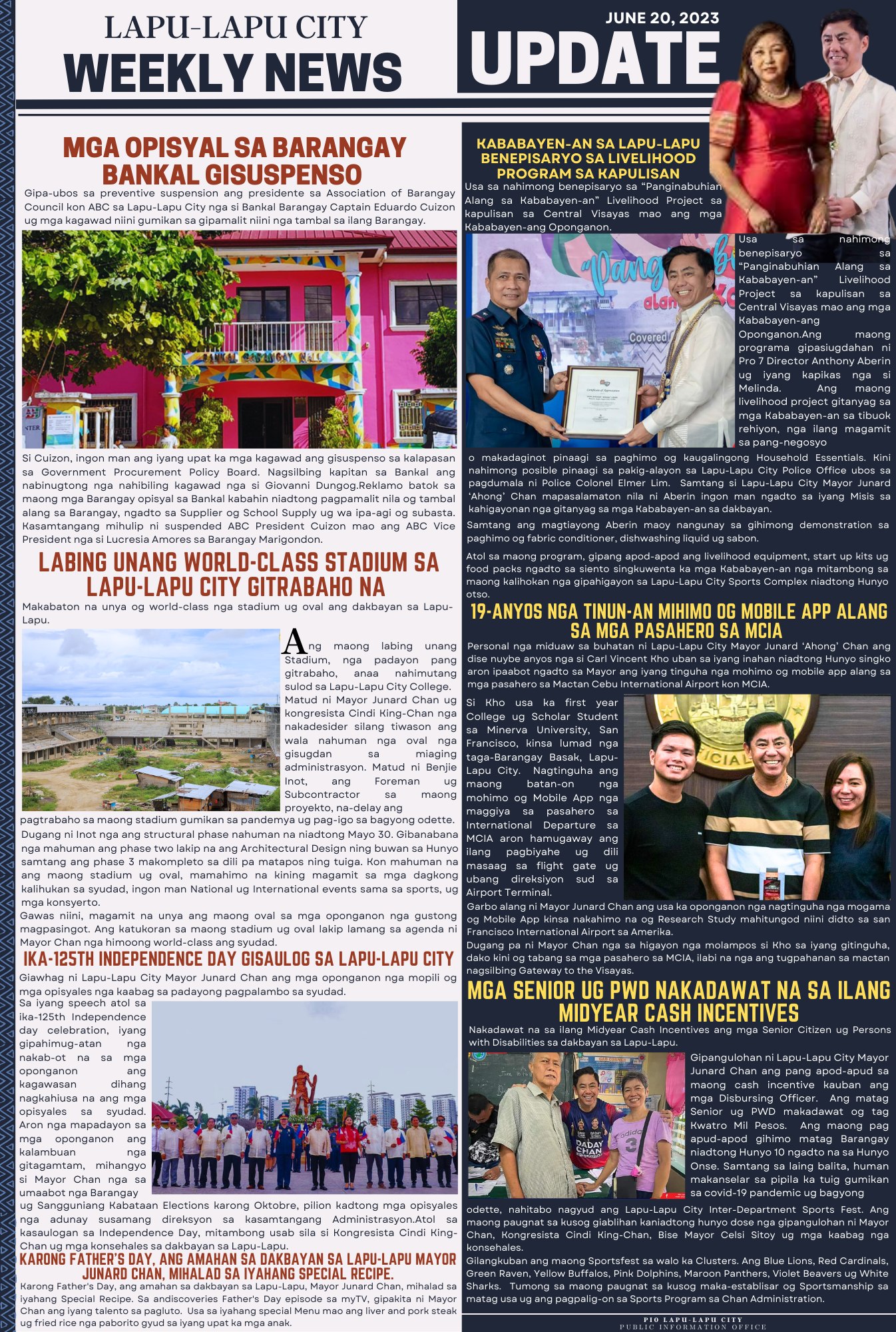 𝑳𝒂𝒑𝒖-𝑳𝒂𝒑𝒖 𝑪𝒊𝒕𝒚 𝑾𝒆𝒆𝒌𝒍𝒚 𝑵𝒆𝒘𝒔 𝑻𝒂𝒃𝒍𝒐𝒊𝒅.
Mga Oponganon, ania ang mga nag-una ug mahinungdanong mga balita sa Lapu-Lapu Weekly News, June 20, 2023. 𝐇𝐄𝐀𝐃𝐋𝐈𝐍𝐄𝐒: 1. 𝙼𝙶𝙰 𝙾𝙿𝙸𝚂𝚈𝙰𝙻 𝚂𝙰 𝙱𝙰𝚁𝙰𝙽𝙶𝙰𝚈 𝙱𝙰𝙽𝙺𝙰𝙻 𝙶𝙸𝚂𝚄𝚂𝙿𝙴𝙽𝚂𝙾 2. 𝙻𝙰𝙱𝙸𝙽𝙶 𝚄𝙽𝙰𝙽𝙶 𝚆𝙾𝚁𝙻𝙳-𝙲𝙻𝙰𝚂𝚂 𝚂𝚃𝙰𝙳𝙸𝚄𝙼 𝚂𝙰 𝙻𝙰𝙿𝚄-𝙻𝙰𝙿𝚄 𝙲𝙸𝚃𝚈 𝙶𝙸𝚃𝚁𝙰𝙱𝙰𝙷𝙾 𝙽𝙰 3. 𝙸𝙺𝙰-125𝚃𝙷 𝙸𝙽𝙳𝙴𝙿𝙴𝙽𝙳𝙴𝙽𝙲𝙴 𝙳𝙰𝚈 𝙶𝙸𝚂𝙰𝚄𝙻𝙾𝙶 𝚂𝙰 𝙻𝙰𝙿𝚄-𝙻𝙰𝙿𝚄 𝙲𝙸𝚃𝚈 4. 𝙺𝙰𝙱𝙰𝙱𝙰𝚈𝙴𝙽-𝙰𝙽 𝚂𝙰 𝙻𝙰𝙿𝚄-𝙻𝙰𝙿𝚄 𝙱𝙴𝙽𝙴𝙿𝙸𝚂𝙰𝚁𝚈𝙾 𝚂𝙰 𝙻𝙸𝚅𝙴𝙻𝙸𝙷𝙾𝙾𝙳 𝙿𝚁𝙾𝙶𝚁𝙰𝙼 𝚂𝙰 𝙺𝙰𝙿𝚄𝙻𝙸𝚂𝙰𝙽 5. 19-𝙰𝙽𝚈𝙾𝚂 𝙽𝙶𝙰 𝚃𝙸𝙽𝚄𝙽-𝙰𝙽 𝙼𝙸𝙷𝙸𝙼𝙾 𝙾𝙶 𝙼𝙾𝙱𝙸𝙻𝙴 𝙰𝙿𝙿 𝙰𝙻𝙰𝙽𝙶 𝚂𝙰 𝙼𝙶𝙰 𝙿𝙰𝚂𝙰𝙷𝙴𝚁𝙾 𝚂𝙰 𝙼𝙲𝙸𝙰 6. 𝙼𝙶𝙰 𝚂𝙴𝙽𝙸𝙾𝚁 𝚄𝙶 𝙿𝚆𝙳 𝙽𝙰𝙺𝙰𝙳𝙰𝚆𝙰𝚃 𝙽𝙰 𝚂𝙰 𝙸𝙻𝙰𝙽𝙶 𝙼𝙸𝙳𝚈𝙴𝙰𝚁 𝙲𝙰𝚂𝙷 𝙸𝙽𝙲𝙴𝙽𝚃𝙸𝚅𝙴𝚂 7. 𝚄𝙶, 𝙼𝙰𝚈𝙾𝚁 𝙲𝙷𝙰𝙽 𝙽𝙰𝙶𝙻𝚄𝚃𝙾 𝚂𝙰 𝙸𝚈𝙰𝙽𝙶 𝚂𝙿𝙴𝙲𝙸𝙰𝙻 𝙼𝙴𝙽𝚄 𝙺𝙰𝚁𝙾𝙽𝙶 𝙵𝙰𝚃𝙷𝙴𝚁'𝚂 𝙳𝙰𝚈. 𝙺𝙾𝙽 𝚄𝙽𝚂𝙰, 𝙰𝚃𝙰𝙽𝙶𝙸!
5 months ago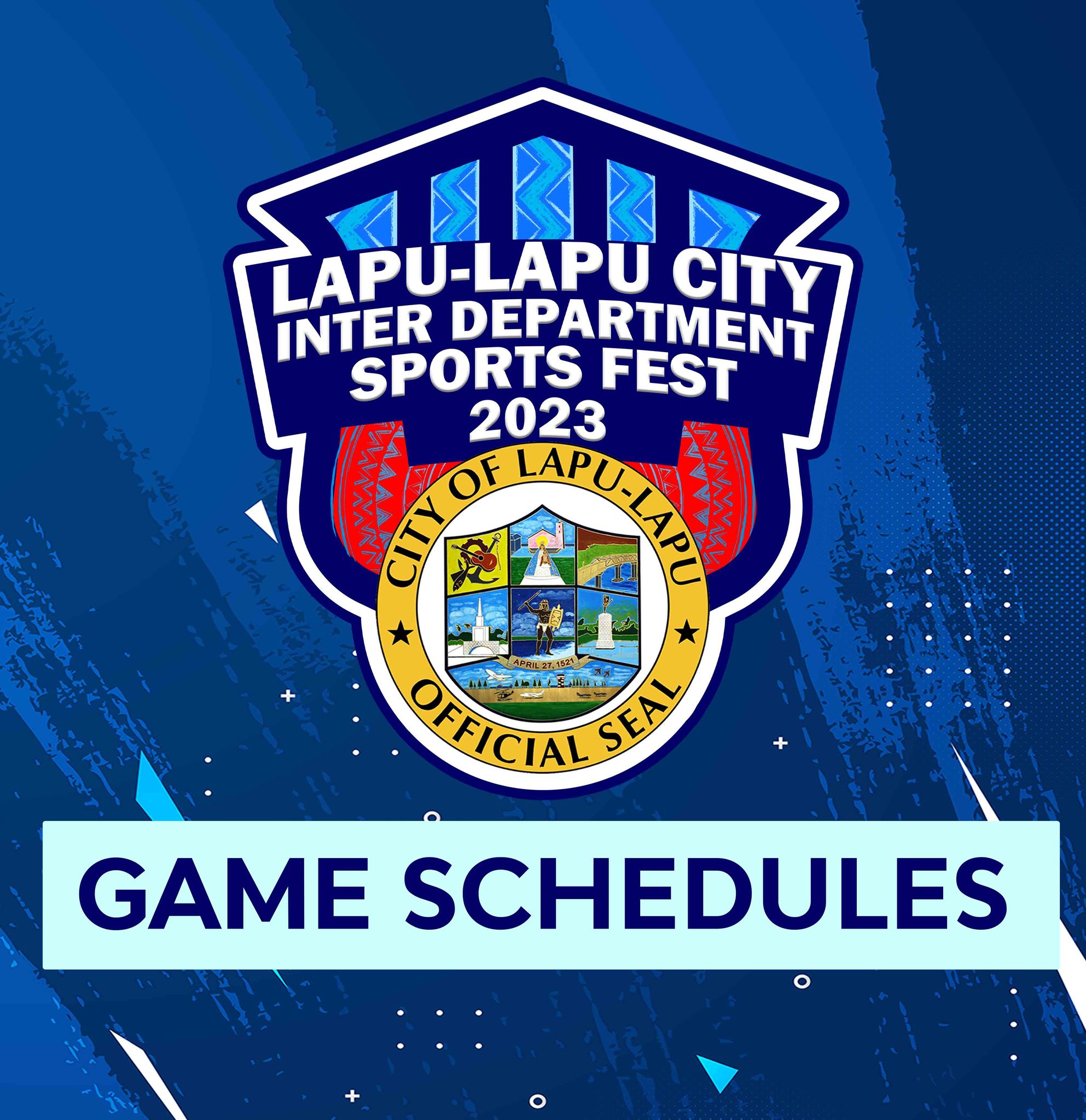 LAPU-LAPU CITY INTER-DEPARTMENT SPORTS FEST 2023 GAME SCHEDULE TODAY, JUNE 21, 2023
Table Tennis Tournament Game Schedules for June 21, 2023, for Men's Singles, Men's Doubles, and Mixed Doubles at the Hoops Dome, Lapu-Lapu City Day 1 of the Elimination Round All teams are scheduled to play. The call time is 6:00 p.m. Cluster 3 vs. Cluster 5: Men's Singles, Men's Doubles, and Mixed Doubles Cluster 4 vs. Cluster 6: Men's Singles, Men's Doubles, and Mixed Doubles Cluster 7 vs. Cluster 8: Men's Singles, Men's Doubles, and Mixed Doubles Cluster 1 vs. Cluster 7: Men's Singles, Men's Doubles, and Mixed Doubles DART TOURNAMENT Game Schedules for June 21, 2023, at Lapu-Lapu City Hall Clubhouse, the Last Day of the Elimination Round 7:00 p.m. Cluster 4 vs. Cluster 6: Men's Doubles Cluster 3 vs. Cluster 5: Men's Doubles 8:00 p.m. Cluster 4 vs. Cluster 6: Mixed Doubles Cluster 3 vs. Cluster 5: Mixed Doubles BADMINTON TOURNAMENT Semi-finals, Battle for Third, and Finals Game Schedule: June 21, 2023 Men's Double, Women's Double, And Mixed Double All Teams are scheduled to play. The call time is 6:00 P.M. Men's Double Semi-Finals Cross Over Win Or Go Home Format (A1) White Sharks vs. (B2) Maroon Panthers (B1) Green Ravens vs. (A2) Blue Lions Battle for the Third Men's Double Win Or Go Home Format Loser (A1 vs. B2) vs. Loser (B1 vs. A2) Men's Double Finals Win Or Go Home Format Winner (A1 vs. B2) vs. Winner (B1 vs. A2) Women's Double Semi-Finals Win Or Go Home Format (A1) White Sharks vs. (B2) Yellow Buffalos (B1) Green Ravens vs. (A2) Red Cardinals Battle for the Third Women's Double Win Or Go Home Format Loser (A1 vs. B2) vs. Loser (B1 vs. A2) Women's Double Finals Win Or Go Home Format Winner (A1 vs. B2) vs. Winner (B1 vs. A2) Mixed Doubles Semi-Finals Win Or Go Home Format (A1) White Sharks vs. (B2) Maroon Panthers (B1) Green Ravens vs. (A2) Blue Lions Battle for the Third Mixed Doubles Win Or Go Home Format Loser (A1 vs. B2) vs. Loser (B1 vs. A2) Mixed Doubles Finals Win Or Go Home Format Winner (A1 vs. B2) vs. Winner (B1 vs. A2)
5 months ago